DISCLOSURE: This post has been compensated by Collective Bias, Inc. and AcneFree. All opinions are mine alone. #AcneFreeSummer #AcneFreeLife #CollectiveBias
Weather changes, medications, and pimples, OH MY!
Many of you know I suffer from a chronic illness that has me on several medications, and it's always a trial and error type of situation to find ones that suits me best. With that comes the struggle – the acne struggle. My back, my arms, my face – it's never ending and has a serious impact on my self-esteem! (Which I'm TRYING to build – HELLO?!?!)
I've dealt with acne most of my life and I've tried a million different products to help maintain clearer skin, but I haven't found the product yet.
AND IT'S BEEN LIKE 10 YEARS.
And I know you're probably thinking, "oh but your pictures don't look like you suffer from acne!" but I'm just really good at using my makeup and spot correction when I edit my photos. Underneath that, I have little pimples, blackheads, and just random lumps and bumps, redness, scarring, and dark spots.
IT'S A MESS, OK?
Now that summer is coming to a close, and my skin will get a break from being perpetually oily due to the heat and humidity we have in North Carolina, I am ready to dive back into a skin care routine that will help me during this Summer-to-Fall transition period. We have to deal with travel, classes, work, and other things in our personal lives – having a skin care routine that WORKS can ensure you have at least one less thing to worry about! Especially if you're using one of the AcneFree Acne Clearing Systems. It makes having a routine super simple – which… I need. I am horrible about keeping a routine for, well, anything.
SO- this time, I'm trying AcneFree products!
(psst.. you can hover over this image to shop the products!!) ☟ ☟ ☟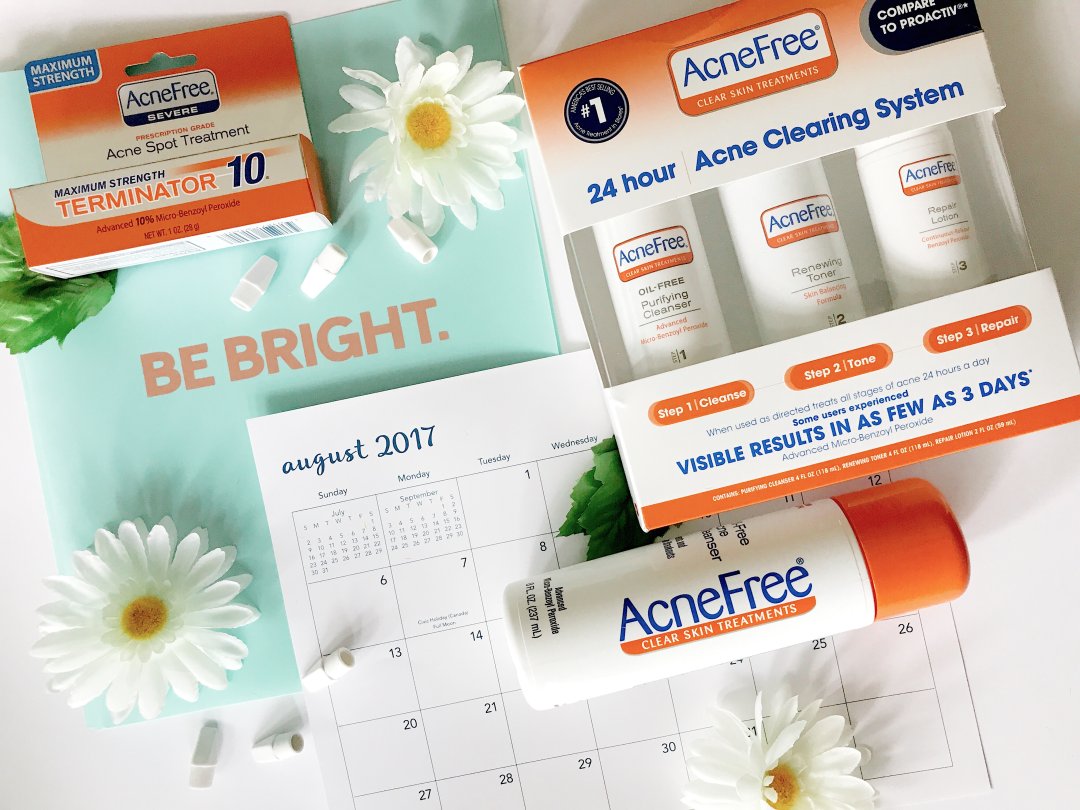 I have the 24 hour AcneFree Acne Clearing System, the AcneFree Oil Free Acne Cleanser, and the AcneFree Terminator 10 (spot treatment for severe acne). I have never tried this product before, so I am super stoked to give it a try and see what it does for my current skin situation.
I got all of this stuff at Walgreens, which is great because Walgreens is literally everywhere. And they were fairly inexpensive!! I got all of these products for around $30 and considering the fact that I got a cleanser, a spot treatment, ANOTHER cleanser, a toner, AND repairing lotion – there's really no argument on the price!
*read on to see how I'm upping my skin routine, and click here to see how others are upping theirs!
HOW TO USE:
AcneFree Acne Clearing System:
This system has been especially good for my night time skin routine. I keep the cleanser in the shower and I go over with the toner and repairing lotion once I've dried off. I keep the products right next to the sink so I don't forget to use them, AND since it's just a cleanser, toner, and lotion, they're super easy and quick to apply before I grab my glasses and leave the bathroom!
I use a quarter-size amount of cleanser after wetting my face with warm water and I work it into my skin until I can see my makeup has lifted from my skin. I rinse and pat dry with a towel, and then apply the toner with either a towel or a cotton pad! Then after that, I work some lotion into my skin which always feels amazing after using a toner!
AcneFree Severe Acne Spot Treatment:
I use this spot treatment after I use the system because it works better for me at night since I wear makeup during the day. On days I forgo makeup I use it twice throughout the day (if I'm home!) and it has helped immensely! Not that it like, totally solved my acne problem, but if a pimple pops up, it doesn't linger for weeks like it normally would. This stuff seems to just speed up the healing process – which is amazing. And all I do is dab on a little bit to any pimple and let it dry! It's by far the easiest thing to use out of everything I've tried from AcneFree.
AcneFree Oil-Free Acne Cleanser:
What I love about this cleanser is that it's gentle. My skin may be super oily, but it also get's super dry super fast if I'm not careful about the cleansers I use. Since I got a purifying cleanser in the AcneFree System that I use at night, I use the regular oil-free cleanser every morning before I apply my makeup. It gives me a clean slate to work on AND it makes me feel a liiiittle better about caking my face for the day.
I'm glad I got the system and another cleanser because I can keep one on the sick and one in the shower for my back and chest!
I'm hoping this new routine will keep my skin clear as I transition back into the real world after a summer of travel and sunshine!
What are you doing to better adapt to this period of transition?? What is your current skin routine like? Let me know below!
Xo, K
Participate in the #AcneFreeLife Sweepstakes – See Visible Results in As Few As 3 Days!
AcneFree is launching a 4-week sweepstakes on August 14th, 2017. 3 Grand Prize Winners will win $1,000 spending money and AcneFree Supplies for a year. Additionally, AcneFree will give away 10 AcneFree® 24 Hour Acne Clearing Systems every week for 4 weeks!
No Purchase Necessary. To enter, simply enter your name and email address HERE, & Use the form to follow on Instagram and Facebook to earn extra entries.
For more information full rules, go HERE!